March 27, 2019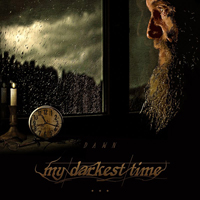 The motifs pulsating in iridescent reverie complement the soft but stubborn rhythm, then vocal phrases complement the overall picture of the Two Angels composition, following the oriental motifs of the musical prelude and creating an atmosphere of reverie of the My Darkest Time - Dawn album.
Oriental musical shades come to the fore in the musical image of the Mad song. After displaying the vocal diversity, the bard saga emerges from the twilight, but not the medieval bards, but the eastern nomads penetrated by the spicy desert winds.
Total anxieties and feelings bring torn eddies of drive, but then the vocals invoke the grandeur and pride of the Don't Leave.. thoughtful anthem, creating a wise atmosphere of musical lace.
Vocal thoughts come to the forefront of the Dawn title track, but musical delights bring progressive charm, intermingling their spicy motifs with vocal variety. Of particular note is the acoustic passages in the instrumental bridges, more and more introducing the hot charm of the bewitching eastern desert.
The broken and tattered rhythms lead the Take Us Away musical passages even more to progressive spaces, but then the vocals roll with them their fascinating narrative.
The vocal thought ends with vocal meditations, male vocals dominate in the narration of the Open, O Doors song, some of which draw back oriental shades, but returning to the style of the symphonic doom metal classics.
In the Embodiments Of Dreams vocal part, male and female vocals are reversed, male at first recedes to background vocals, but then comes to the forefront along with a wave of harsh drive, female vocal in that part complements vocal part with background vocals. The guitar solo of the intro of the final composition of the album Lord Have Mercy incredibly fascinates the mind, distracting attention - but the vocal tunes again come to the forefront of the composition, completing the album with a very impressive finale.