April 07, 2020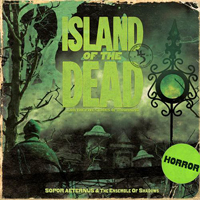 Building a musical composition around the saddened cry of male vocals, Minotaur sometimes complements these experiences with vocal thoughts of female vocals, shrouding in the twilight rehearsals of saddened romanticism. Then Poison continues the Sopor Aeternus & The Ensemble Of Shadows - Island Of The Dead album, giving the vocal sadness shades of some indignation and pulsating with the brooding charm of the musical narrative.
Continuing the mesmerizing pulsations of romantic sadness Black Magic Spell envelops vocal experiences with bewitching lace of twilight symphony. The Deathhouse music pulsates with a leisurely march, crowning it with emotional experiences of crying vocal confessions. The mesmerizing symphony of introduction sets the direction for the development of Mourning musical composition, stepping aside background music support in front of sparkling experiences of vocal doubts, complementing instrumental fragments with the bells tolls.
The leisurely grandeur of The Void dark symphony is interwoven in a bewitching waltz with sad vocal reflections. A leisurely procession of vocal doubts uncertainly walks in the foreground of the Saturn Rising musical composition. Driving the waves of restrained march Burial Ground braids its coils with musical sparks, crowning with the twilight of vocal experiences.
The guitar solo is preceded by the introduction of Nightbreed vocals by some trends of drive, then entwined with twilight lace of a mysterious atmosphere, giving the vocal narration some epic shades. The Cold song vocals phrases captivate with a bewitching dance of emotional variations, entwined with sparkling passages of keyboard notes. GoodbyeThe bard ballad, interwoven in a majestic dance with the scrimping tunes of the minstrel ballad, introduces shades of medieval musical trends into the album's final composition.