February 17, 2018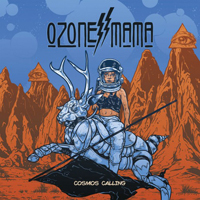 Mysterious motifs of oriental folklore lead to listening to the Ozone Mama - Cosmos Calling album with a fascinating Evil Ways song, in which the vocals are manifested in several phrases in the finale.
The inspirational, bright, overflowing with hopes and aspirations, the Straight On Till Morning Light story continues album, putting imaginary dreams into vocal reflections and enveloping with dreamy illusions.
Twilight meditations are captured in the completed dance, complementing the Doppelganger music with some shades of blues motifs. But the vocals in the choruses break out of the musical torpor.
Gloomy forebodings come to the end full of hope and joyful apprehension of the High Ride mid-tempo composition, the lyrics of which list and substantiate the valor with which to overcome so many trials.
Again, the gloomy haze of anxious meditations Feel So Alive with elements of the blues comes back to caution and anxious forebodings, but the vocals in the choruses release the mind from such gloomy shackles.
The enchanting ballad Shout At The Sky surrounds with the dreamy atmosphere in which in vocal phrases emotions shimmer with a magical brilliance, like lost jewels and this romantic atmosphere is enveloped in an invisible care by sublime keyboards chants.
Title track Cosmos Calling dances in a slow, wise history, like an aging bard tells his experienced country-style stories to his restless grandchildren.
The main motive immediately reveals its essence, concentrating musical shades, developing throughout the Freedom Fighters composition.
Cold Light Of Day continues this mood, but pensively meditates in the verse, then swings the storm of emotions and emotions, giving this vortex a bright and sparkling image of a significant narrative, then repeating this sequence again.
Multifacetically and comprehensively demonstrating musical triumph to the introduction The Alchemist complements the album with a ballad, instead of romantic experiences broadcasting about ancient annals, in an epic form revealing secrets with soft enchanting music.
Continuing to give the album the charm of many styles Moon Pilot complements the music with charming progressive and epic musical ideas, the vocal also complements this variety with its delights. And in the final of the song - a wave of a sludre rock drive! It should be noted that the last two songs are like jewels in the crown of the whole album.