February 16, 2018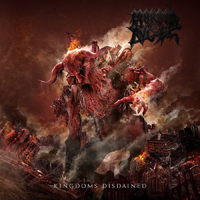 Furious and lethal power Piles of Little Arms spans the surrounding space, mysterious intriguing instrumental passages twist vocal phrases with dark vortices, starting the Morbid Angel - Kingdoms Disdained album with a wave of dark mid-tempo drive.
After the rapid and unrestrained instrumental passages, D.E.A.D. begins a viscous, viscous and dense eerie music, in which the instrumental efforts to get rid of bonds and fetters seem to be encased in rusty chains and smoldering shackles.
Garden of Disdain initially discards the limiting fetters, but the main motive keeps epic charm and exciting melody from excessive swiftness, confining itself to dark mid-tempo thinking, preferring the power and dense sound of excessive haste.
By flashing out other people's sins and calling for the purification of the soul, rejecting any sinful thoughts The Righteous Voice raises the vocal to the front end of the narrative, but the demons do not allow to cast off all their charms - the composition continues in the duel of the exorcist with the evil beasts.
Starting unhurried reflections against the backdrop of enchanting melodic accompaniment Architect and Iconoclast promotes the triumph of melodies in a solemn and proud march. In vocals, growling and screaming are intertwined in a single stream of marvelous melody.
Paradigms Warped and The Pillars Crumbling continues the sound in simmilar manner, rolling in a dense and powerful rhythm the confident structure of the triumphal procession.
The main motive manifests itself in the introduction, returning again and again in the instrumental breeches - as if the inhabitants of the castle escort valiant knights to battle with a dark horde of demonic enemies. As if a ruler and a voivode instruct warriors before the coming battles, in which they will have to fight For No Master.
But the knights who destroyed the demons and evil spirits return to their native places, not commemorating rest and forgetfulness, but they is Declaring New Law that will not leave any hateful ancient orders, confidently and carefully placing more and more custom.
The heaviest and most densely compressed sound already in the intro From the Hand of Kings rolls with an unrestrained wave of dark drive, the vocals immediately thicken the gloominess of the sound, the music from time to time is carried away in impetuous impulses.
The Fall of Idols continues the stylistics of the previous composition in those parts that rush in unceremonious jerks, eager to contemplate novelty. Well - the great album has a very significant and magnificent completion!