November 17, 2017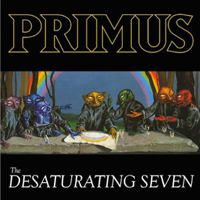 Mystical conceptual saga about goblins Primus - The Desaturating Seven tells us forgotten legends about incredible creatures.
Softly and mysteriously, the singing of birds and a leisurely guitar search precede the recollection of ancient legends about goblins who are looking for a rainbow. About The Valley of the rainbow lands here's tells about. After a thoughtful introduction, the musical darkness becomes denser, the vocals shimmer with distorted forms, music pulsates around these phrases.
Music in a dense and rhythmic march The Seven moves further along the path of fairy tales, in this dense and rhythmic sounding vocals hangs in the mysterious fog of incredible stories.
In the mysterious muffled and calm sounds the motive of The Trek intro, music appears to us as a reminiscence of medieval fairy tales. Then the vocals precede the changes cunningly and maliciously pronounces his speech, the music becomes darker and more mysterious, cunningly dancing in a pulsating rhythm.
A short bass guitar solo starts The Scheme composition, then pulsating in an ominous rhythm that does not allow him to move away from his confident progress.
An obscure buzz, mysterious guitar notes and a premonition of the coming changes begins The Dream song. Then these mysterious and mystical sounds of an obscure buzz, and the breathing blows complement the mysterious distorted vocal phrases.
Thunder and rain bring The Storm atmosphere to the sound of the album. A complex, mysterious broken rhythm, changeable vocal phrases create an incredibly progressive atmosphere of this mysterious saga.
Shamanic tambourines, muffled, blurry vocals broadcast that the rainbow does not touch the gun. The Ends? - soft, calm guitar passage completes the album.