November 16, 2017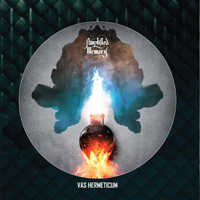 Thoughtful, epic instrumental introduction Corridor begins the album with a wave of a symphonic saga, inspiring a further flow of drive in the Amplified Memory - Vas Hermeticum album with an incredible sign of shimmering inspiration. A powerful rhythm completes the composition, anticipating the introduction of the next track, Maze Of Gyri with tough rhythmic march. A frenzied, unrestrained drive at the beginning of the song suggests a frenzied, frantic race. But the charm of medieval mysticism returns to the forefront of the musical image, subjecting the drive to its influence.
This influence becomess even more vivid and effective in the following composition A Walk On The Crystalline Path. This enchanting saga accompanies the hard way along this path which requires heroism and many feats as fascinating anthem. Music fascinates with a variety of sounds, weaving notes of symphonism and streams of harsh and powerful drive into a single musical image. Then the saxophone solo introduces the soothing motives of the lounge, creating a peaceful atmosphere of restful respite, after which again the hard way continues to test characters by unpredictable quests, with symphonic passages on the background.
The majestic lyric saga Soporific continues solemn symphonic music, enveloping with the romantic mood and enchanting musical passages.
After the thoughtful and proud symphonies The Aether Apparatus carries away in a violent unrestrained stream of musical drive towards new and new future quests.
So ornate but so exciting narration End Of Transference creates an incredibly diverse palette of musical passages, with ragged, complex rhythm, combining sublime melodic guitar breaks, lyrical keyboards and emotional phrases of pensive growling vocals.
A soft, unhurried symphony starts Ammon's Eclipse music, then a gentle singing lady picks up the canopy of this romantic story. Then the confident and violent growling of the male vocals sweeps the lyric romanticism to the top of the musical Olympus, but then the singing lady reassures the music with her soft vocal. And this change will repeats again,after which, in the instrumental part, the wave of drive captures the musical framework, then merges the wonderful melodic romance and the share of the drive in completing the composition.
The Multipolar introduction implicitly moves through the dark twilight, complementing the growling vocals with screaming screams and a muffled whisper on the background. Then in the bridge growling is supplemented by the epic phrases of clean vocals, then the gloomy fog turns back again. In this mysterious haze there is an unclear screech, and gurgling splashes, dark and mystical piano passages form a dark romance of gothic cemetery myst.
The sublime keyboards passage in the Non-Construct introduction introduces romanticism, then the music gallops to the introduction of the vocals. Further, these parties are interchangeable and complementary.
The soulful charm of symphony Into The Shelter Of A Mind completes the album recalling the legendary tales of the past, the chronicles of unforgettable heroes, solemnly and proudly enchanting with these mystical legends.