November 18, 2017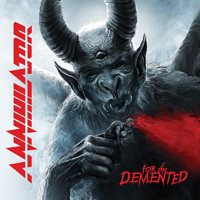 The runaway flow of the frantic drive of Twisted Lobotomy song sweeps away any obstacles, in the decisive race of musical frenzy starting the Annihilator - For The Demented album with a violent stream of musical battle.
Continuing this same style in One To Kill track vocals comes to the forefront of the musical picture, guitar riffs support it on the wings of guarded musical passages.
The title track of the album For The Demented introduces into the music the charm of mystical romance, concealing in the enigmatic fog of the coming changes to its sound, raising these mysterious and enchanting riddles to a powerful march at an average pace, combining several vocal images.
A thoughtful ballad Pieces Of You shrouds in waves of reflection about everything around, whether it is worth discussing and evaluating, or whether it is necessary to change priorities and focus on something else. What do you think about?
These reflections on life priorities causes a wave of hard blues, embodied in The Demon You Know song, although in the chorus the music picks up the pace a little more zealously than the mid-tempo verses.
Beginning with a mystical symphony, descending the fairytale motifs, the Phantom Asylum composition then combines these ritual allegories and spiritual hypostases with a bold and energetic drive.
Despite some ritual references in the Altering The Altar title, this song refers to this unrestrained rock'n'role dance around these incredible sacraments.
The Way continues this energetic youth stylistics, pritantsovіvaya in an unrestrained manner to have fun, rejoice and do not pay attention to all sorts of troubles and adversities. This way - I like it!
The Dark instrumental saga creates a mysterious mystical fog, creating a mysterious intrigue before the final composition of the album Not All There. In it, exciting and unique waves of energetic, unrestrained drive combine to bring the charming melodic and romanticism of the lyric ballad. But unrestrained energy comes back to pique the musical image in a complex and vivid rhythmic drawing.