July 02, 2016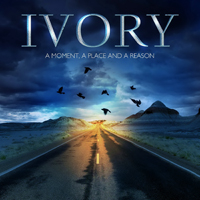 You're not caged beneath the grates of prison, so have to find Ivory (Ita) - A Moment, A Place And A Reason .
Perky guitar riff begins its run, starting story about Bad News. Similarly rushes music in the verses, applying the brakes in the bridges to thought about the fates of the world's people.
Thoughtful monologue, flavored with accompaniment, starts The Hawk, midtempo track, that close to a ballad by its mood and course, that combines the grief and hope, sadness and joy.
Thoughtful vocal speech guitars riffs surrounds by their passages, dancing and driving to Feeling Alive. The composition continues the story of an average pace until the end.
Thinking about matters, developing or depleting those who around us continues in the Who Am I. Live, inspiring saga doesn't answer the question, but rampant and insistently defines it. Well, the answer only his own for everyone!
Acoustic guitar brings country-style motives into Take A Ride. In the same form composition brings to our hearts fraction of touching joy because the integrity of the surrounding nature with us, that expects for our.
After a long walk to our attention appears the village, that call for a break of the trip. And on the porch of a country house are sitting musicians that plays on theur acoustic guitars A Drink At The Village.
Legends live in the hearts, consciousnesses and the minds of a lot longer than humans, the people, their material creations, so Come Together is the cover on legendary hit of unforgettable Beatles as well!
Pensively, lyrically begins Inner Breath, then sealing the music by guitar riffs and vocals, that plays with the emotions and moods, change them like a gambler his glove during the unluky games.
Acoustic guitar riff and soaring above it keyboard passage reminds a serenade beneath the balcony beloved and inaccessible girl. Vocals reinforces this opinion, the vocalist by all his emotions and desires discribes hopes to see Through Gloria's Eyes at least somewhat, that brings him closer to understanding and entirely spiritual union with the beloved. Very cute and exquisite ballad!
Eliminates any doubts, lack of confidence in "whether to listen or not?" Blues For Fools - merry, cheerful composition - that sweeps away all the sadness, grief and self-doubt. On this positive note the album ends.