January 23, 2018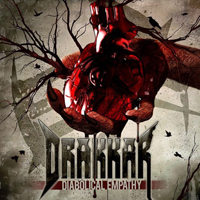 Rain noise, gatherings and gossip of many people, alagan with tambourine are combined into the The Arrival introduction, revealing the pages of the conceptual saga Drakkar - Diabolical Empathy for everyone's attention!
Solemnly, sternly and mysteriously, the introduction Rose Hall's Great House covers with a mysterious fog, the vocals bring at first more importance to their phrases, then from time to time rushes into swift passages, which heaps powerfully and severely. Stigmata gives an even more sombre shade of history, confidently and meaningfully revealing the characteristics of the surrounding situation.
The inspirational round dance in the The Witches Dance introduction enthralls you in a fast-moving one escaping and hiding in an uncontrollable race, with ghostly images emerging from the fog again and again in unexpected hypostases.
Rolling powerful waves introduces Plague Or Cholera drive, then rhythmic vocal phrases pulsating power explode the consciousness of the surrounding horror, concentrating energy and power in the mid-tempo drive.
In a romantic ballad, Stay With Me male and female vocals wed their parties into a single charming picture, in which the wanderer turns to his mother, she answers him as queer, ghostly lady.
Creeping dark fog, enveloping evil spells and dark spells all around, Lucifero Moderno begins this terrible story, putting the ladies and demons side by side. The Nine Circles Of Hell pulsing into the introduction continues this story with more rigid and rhythmic waves of gloomy horror. Mysterious motives Evil Below bring the sound of bright sparkling impulses in the dark twilight, creating an epic and meaningful composition in which the shades of the ballad and the pulsating drive of the mid-tempo composition resonates.
Boosting the waves of despair, The Endless Way builds up the power, making music fun and stern, sweeping in an uncontrolled stream of concentrated despair and the pursuit of freedom from shackling fears and apprehensions.
As if in a ward of the West Allis madhouse there is a strange conflict, then they argue about choosing a radio station, then sounds are heard ... which lead to an unexpected reaction. Perhaps the most sonorous composition of the album Hitchhicking Of Pain completes these spiritual conflicts, densely and confidently carrying the banners of his musical procession in verses, lifting them to the sky in the emotional glow of the choruses.
A majestic, familiar march begins Opening Towards The End outro, which ends like the intro.