May 29, 2016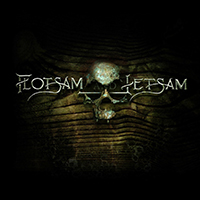 Didn't hesitate over the name for a long time - Flotsam & Jetsam - Flotsam & Jetsam!
Powerful and intense intro begins Seventh Seal, accelerates compositions pace with vocals entry. The chorus reduces the tempo of sound to saturate a rhythmic vocal phrases. After the chorus intro riff is repeated.
Life Is a Mess starts with something like blues, then stepping up the tempo of the track, some slowing down in the chorus - it's so life!
The rhythmic, clear and full bodied Taser rises its pace in verse, with a brief relax before the next. After reading the song title immediately thought - that's Iron Maiden cover. But it is - absolutely not the case! Powerful destructive riff carries us the entire track, blasting out obstacles in its path, knocking off the pace, spending a bit of energy to their demolition!
Accumulating forces for a breakthrough, starts Verge of Tragedy. Rapidly destroy the shackles, the narration begins slowly. But the next verse quick and hasty again. The alternation of the slow parts with keyboards accenting and fast, with guitars leading the pace runs the entire track.
A distant whisper, howl of the wind sounded by a shaman tambourine - thats Creeper!In verse guitars connects to tambourine, in the chorus pace slowed down and choir joins to vocals from afar.
L.O.T.D. rhythmic, lively, not expectant verse gives way to a mid-tempo chorus. And so - again and again! Instrumental part - that's short respite before the next verse jerk!
Lyrical, melodic and dreamy entry starts The Incantation , instrumental ballad.
Many had thought - that's Foo Fighters cover. No, just the same song title - Monkey Wrench! Twitches, danced the rhythm moves forward at a moderate pace, without any variations in the pace and complexity of the instruments. Cheerful, incendiary composition.
The rhythmic, midtempo Time to Go making its way quite stubborn, slowing down only for a little while for the persistent repetition of the words of the chorus.
Blows are applied strictly and methodically, otherwise hard to take away the Smoking Gun. After a hard and unyielding verse, there is a pensive monologue- maybe, that way is much better?!
Rebels collect troops under the drumbeat - they will fight to access Forbidden Territories. Units marsh sbegins from the short bass solo, then the rebels are quickly approaching towards its goal. The height of the battle takes place in an unstable and oppressive chorus. Then the squads quickly change attacks directions to obtain the advantage. Then the battle ends!