May 30, 2016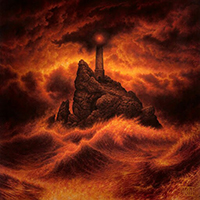 In Mourning - Afterglow, two so different elements caught in equilibrium, Fire and Ocean decides priority and try to overcome each other, that not to easy - that chalenge takes part unhurriedly, in midtempo pace. The melody flows around obstacles, significantly slowing down in the instrumental part but not eliminate the influence of the track leitmotif
The folklore motif of northern peoples begins The Grinning Mist, slow pace and somber melody continues till growling vocal intro, then alternating destructive tacts that's dancing around vocals, encircling you with its melodies. In the middle of the music composition pacifies their rage, clean vocal uses this accompaniment to highlight the quintessence of grim story.
Dreamy riff carries into the clouds, vesting of fantasy and dreams in its music, Ashen Crown power ballad that does not allow a furious speed take precedence over melodic. Dreams don't escape, but just floating around, saturating clouds of its images. Clean vocals lyrically dreaming of unrealized ends this sad phrase track, the instrumental finish doesn't allow to forget it.
Quiet, calm and mysterious beginning opens Below Rise to the Above then clean vocals tells the story, slowly, thoughtfully and thoroughly. Music does not speed up the pace, but it is gaining strength and density, then growl connected, increasing the fury of this ballad.
The Lighthouse Keeper's story begins with the leisurely motive, not rushing for tighter and seal its music. Then - in a moment when growling vocals joins, istruments immediately releases their fury. Firmly, insistently keeping pace issued rage increases its velocity only briefly in the middle, and then again back to the sluggishness of its persistence. Then, a brief flounce between fast and slow takts. Then, the keeper's story ends.
Powerful blows open the way for The Call to Orion then not run, but rhythmically and powerfully track its way by connecting new riffs, sequentially complicating them and their combinations. Then, Instruments, releasing rage and anger accompany a bit to dreamy clean vocals. After the break, again regaining power, combines scream and growl vocals till the end.
Afterglow, the title track closes the album. And again, the melodic power exceeds the furious rage, not accelerating pace, not accelerating pace, calming instrument for fairies singing sounds and complete composition at all.