May 27, 2016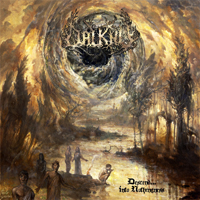 Where we have to go, where the start or the end, now we're Dalkhu - Descend... Into Nothingness!
Heartbeat starts Pitch Black Cave, which then includes an aggressive distribution on all sides, and then slowing down the pace on a guitar frenzy. Rhythm, tempo and musical palette is varied, but the guitar rage not calms down, saturating the sound and power density, even slowing its riffs.
Mysterious distant sounds, The Fireborn begins his coming from distant worlds in our lands, without stopping before anyone. Its route goes firmly from the beginning to the end!
Mysterious, intriguing, a rolling start greets us In The Woods. Unhurried melodic composition should be treated as a ballad, taking our attention away ... but after a rather slow and cautious intro melody picks up the pace and fury carries away all those who have come into the depths of that forest!
Folk melody surrounding us with the mysterious dance rhythm begins Distant Cry, which does not hide the patterns, but only invests them in a stronger facet, without hiding their luster and reflecting in their own melody.
Accepting The Buried Signs begins his destruction of the immediate vicinity, then without stopping its deadly journey, covering more space, ravaging and demanding the adoption of a funeral symbols!
Steps of the Soulkeepers paced, then heard the howling of wolves from the outside. The narrative alternates pace, varying it to attract attention and distract the wolf pack.
Ornate, complex, intriguing riff prepares us for the E.N.N.F.. Difficult to understand, the composition draws its convention, adding up to patterns and complex its palettes - that are not easy to understand and feels perceptions of it as well. And the canvas ends!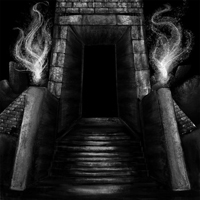 Oh, alarm - all to the awareness, that's Voiden - Beyond Antares!
Quick start, Antares does not wait for slow, not stop its armada in its conquest of everything.
If the new technoloies does not allow to resist and find the means to protect, Elder Blood helps and suggest possible ways to defend your wold from the opposing forces.
Hypocrisy does not cease to use different ways of distorting reality, changing the sense of things and the meaning of words. Furious pace in this lie is replaced by the viscous and stringy piece of instrumental ending wildly distorted and unintelligible voice. And then - again a lie, hypocrisy again!
Slowly stalking creeps Crawling Chaos, neatly in verse enveloping and embracing you from all sides, in the chorus accelerating their grip to the incredible pace. At the end of the sound as if removed from you, further, further, further ...