March 16, 2022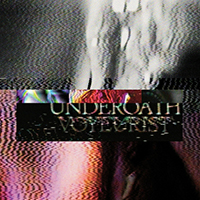 The sounding of the Damn Excuses composition gives the introduction of the Underoath - Voyeurist album an atmosphere of unhurried meditations, at first setting with vocal phrases a source for reflections, then enveloping with a haze of musical mystery the varied vocal reflections. The Hallelujah song enters with background chorales, then raising the main vocal banner of doubt and uncertainty, again and again complementing the support of the vocal background and musical mystery. The phone rings, the operator's answer about the wrong number together with the musical mystery add to the anxious atmosphere of the I song's introduction, anticipating the introduction of the vocals with a complex progressive musical palette.
The guest vocalist brings an element of variety and artistic change to the sound of the Cycle (feat. Ghostemane) song, enchanting the significance and thrilling vocal part of the musical palette. The Thorn ballad combines musical artistry with varied vocal reflections, weaving them into a single musical lace of mesmerizing tale.
The (No Oasis) intro wraps the intriguing mystery of a twilight musical mystery around the vocal meditations, raising echoes of medieval tales and eastern folklore motifs in the adventurous charm of the Take A Breath song and the insistent unyielding drive of the rebellious dissent and the unstoppable impregnability of the We track's sound.
Once again enveloping the listener in intriguing mystery, the Numb track pulsates with waves of pulsating indignation and disagreement with the existing order, bringing answers to questions and calming calm to the sound of the Pneumonia final chord of the album.