March 17, 2022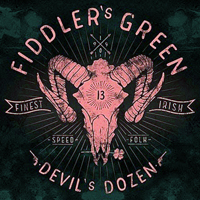 The title track begins the Fiddler's Green - Devil's Dozen album with inspired vocal chants and a celebration of musical inspiration, drawing you into a festive dance and sweeping worries away. The Bottoms Up composition captivates with a vivid and exciting folk motif, then introduces pensiveness and doubt with the vocal part of the verse, but again exalts the vocal rebellion of the Celtic company. The very artistic and unexpected influence of Latin motifs and the combination of such contrasting musical styles and lyrics creates a very peculiar musical image of the Down song! Again combining contrasting musical unity, the Boat on the River (Styx cover) combines the tribute to the legendary musical band with the unity of its musical heritage with the musical motifs of the ritual chants of the Celtic Druids. The Perfect Gang composition brings back the atmosphere of a festive fair and unrestrained festival fun, anticipating the musical rolls of a denser and more powerful Leaving of Liverpool musical drive, topped with an inspired vocal narration.
The sound of the Johnny song accentuates and recalls its title again and again, then the Bad Boys vivid dance inspires memories, returning to the unrestrained whirlwind of adventure and experience, after which the Blame It on Me acoustic ballad inspires the charming romanticism of inspired melody, combining the main vocals with the support of musical companions.
The All the Way track marches through a vocal narrative wrapped in a blanket of folk motifs, then brings country-style echoes into the sound of the Mr. Tickle song, developing this stylistic direction of musical artistry in the Here We Go Again sparkling dance. A group celebration of the We Won't Die Tonight song concludes the album with inspired invocations of friends and musical brothers-in-arms.