January 21, 2021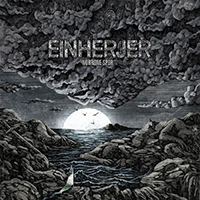 Whipping up waves of furious drive, The Spirit of a Thousand Years combines melodic guitar solos with vocals dominating the sound. The Mine Vapen Mine Ord continues the musical narration of the Einherjer - Norrone Spor album with the influence of northern folklore and echoes of bardic sagas and battle marches of the distant past. The lyrics of the composition change English into the bands's native language, continuing a similar lyrical component in the next composition, the Fra Konge Te Narr, forcing the harsh waves of a mid-tempo valiant anthem, that is praising the exploits of the furious Vikings.
Returning again to English lyrics, the Kill the Flame slightly accelerates the pace, while retaining a stylistic sound with the influence of northern epics. The Mot Vest returns to Norwegian lyrics and a stern procession of a mid-tempo march that accentuates the rhythm of the musical procession. Bursting with a sharp acceleration of the tempo of the music in the intro, the Spre Vingene compresses and thickens the music to a tough viscosity with the vocals intro, but again explodes into a whirlwind of impetuous drive in the instrumental bridge, combining these contrasts in the chorus,mbining clean vocals with growling in a duet.
Returning to the English lyrics, The Blood Song hovers from side to side in the verse, holding up the banner of inspiration in the chorus, combining vocal variation into a thrilling sound. Accelerating the tempo and twisting the impressive sound of the guitar passages in the musical stream of the main motive, the Doden Tar Ingen Fangar returns to the native lyrics in the final part of the album, imparting demonic aggressiveness to the vocals. The epic bardic saga Tapt Uskyld captivates with a legend with a slight tinge of sophisticated sadness, enchanting with an incredibly melodic guitar solo of the instrumental part. The Av Djupare Rotter completes the album's sound, continuing the stylistics of the previous composition, but in a more symphonic format and hardening the vocals in epic severity and shading it with background backing singing of clean vocals.