August 05, 2017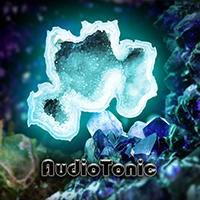 Viscous, unhurried and meaningful Cruel Beauty, in which the bass guitar dominates, starts the instrumental extravaganza Audio Tonic - Audio Tonic, supplemented by the sensual and brooding atmosphere of the sublime keyboards. The next composition Grazing The Green Grass Of Goodness continues the same style, the main change is that the sound becomes more thoughtful, inspired and reassuring and ideas of the solo guitar comes to the fore, the tacts of which sums the bass guitar.
Thought and wisdom are in some way transformed into a kind of playful Sandra Day dreaminess, forming ornate vortexes of thoughts interwoven into marvelous, original and imaginary ornaments.
That transforms the melody into so pensive calm Exposed, deliberately and deliberately considering the past deeds, evaluating their influence on the current order and assuming future accomplishments. Further ideas and reflections concentrates, appealing to bright and adorable improvisations.
The splash of sparkling, captivating melodies requires rest, creating an oasis of soft and soft music, Valley Of The Octopi giving inspiration and energy for the coming changes. In the sound of the composition, keyboards and bass guitar slowly and instructively argue about the dominant role, guitar motifs confidently march through this discussion in so playful dance. In the final part of the composition the guitar motifs dominates the sound image, subordinating another instruments to its parties.
Chewie music dancing, the guitar like an evening lake surrounds with chorus of croaking frogs, keyboards hide it in the dusky fog of their inspirational, encouraging passages.
Thoughtful anxiety Little Things сreates dreamy atmosphere of charming combination of keyboards and guitar melodic parts, next in the impenetrable gloom of mysterious musical passages, awaits Nomauto dirty trick, worrying on the other hand whether to expect meanness - a knife in the back, in the shadow of a stone in his bosom.
Calm, unhurried ballad Motions pulsating completes the album, like the heartbeat of an unknown creature that encompasses the entire surrounding world, that becomes the single entity with this illusory spiritual being.