December 16, 2018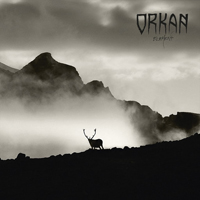 Wind noise and distant, indistinguishable tunes create the introduction of the Lenker song, then a gloomy drive rolls in a wave of dark musical fury. Furious vocal screaming brings emotion into a verse, in the refrain, calling to the spirits of ancestors, rising from oblivion as background chorals. A bright, catchy epic melody weaves the opening lace of the I Flammar Skal Du Eldast, continuing Orkan - Element album with a majestic narration, fascinating with its fascinating sound.
weaving several shades of screaming into the vocal part and complementing them from time to time with the background growling chants. In instrumental bridges, music is transformed, complementing the basic motive with new and new shades.
The furious drive embraces Iskald Til Beinet vocal confessions by the tendencies of melodic passages, uncontrollably rolling waves the power of a severe couplet, introducing a chorus of melodious guitar solo. But the brooding pacifying symphony completes the composition, presenting it as Motstraums magnificent ballad.
Rapidly carried away on the glittering wings of epic passages Avmakt carries you into an extravaganza of melodic sound, captivating with a very memorable and inspiring basic motif. In the middle of the composition, the music slows down, enveloping the atmospheric instrumental ballad, with echoes of mystical trends and sacraments. But the vocals bring back a wonderful melodic drive.
The gloomy mystery of musical narration is intriguing, vocals phrases complements Den Vate Grav song with rare phrases. Then the music acquires an enchanting melody and is carried away by the sparkling melodic drive into the enchanting limits of the sought-after greatness.
A pensive instrumental symphony pacifies and envelops us with a mysterious atmosphere, but then the vocal turns the final composition of the album Heim into a magnificent ballad intertwining folklore motifs in such an epic narrative.