December 15, 2018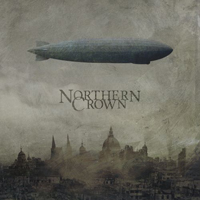 A viscous, graceful I Am Your Slave intro slowly and carefully rolls out a canvas of a musical image, then the bass guitar with its solo sets the beginning of the main motive, which is then enveloped in the twilight charm of guitar riffs. Vocal phrases complements the Northern Crown - Northern Crown album's beginning with emotional experience.
Slightly accelerating the pace and pumping waves of inspiration Merciless, They Let You Suffer on the wings of the drive brings to the album the trends of medieval bardic narrations, bringing austere and tight drive in the instrumental bridges.
Percussion and bass guitar create a gloomy background, then the guitar and keyboards alternate their solos, setting the style of the Forged from Nothing solemn hymn. Then the music is transformed in anticipation of the vocal part, shrouding vocal phrases with sparkling ribbons of passages of the keyboard part.
Leisurely and importantly, shrouding vocal phrases with deep and sonorous musical passages Chasing the Sun brings a hard blues trend to the album.
Beginning as a tender romantic ballad The Desert and the Wind envelops you with tender feelings, then the vocals from romantic dreams are transformed into a creaky whisper, after which the music rises in a discreet drive, enveloping vocal experiences with inspiration and support. Completing the composition is similar to the beginning.
The vocal part dominates in Righteous & Pure musical image, the music begins with a leisurely procession, layer by layer folding the main motive. The vocal begins with thoughtful doubts, ascending in a refrain in a solemn and haughty narration.
Music envelops you with romantic motifs, creating a thoughtful, inspired atmosphere in which vocals lean towards revelations and confessions, creating an enchanting sound of the By Demons Bidden composition.
The album is completed by a very diverse Your River composition, starting with a thoughtful romance, then the bass guitar solo introduces progressive elements, but before the vocal starts, the music returns to the romantic twilight, in which muted reflections of the vocal remains in anxious doubts. Then the vocal is transformed, frightening with creaky screaming, shrouded in majestic keyboard passages.