February 21, 2020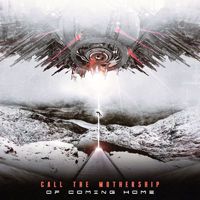 Soft guitar passages gently and pensively envelop the Contact bewitching mystery in which the echoes of a vocal whisper are unclear, bringing an even more mysterious atmosphere to a thoughtful instrumental narrative, opening the Call The Mothership - Of Coming Home album with an enchanting atmosphere that appeals to old memories and revives forgotten fairy tales from oblivion.
Pulsing the musical extravaganza of the introduction, introducing the artistic echoes of progressive trends into it, Hope then raises the vocal part to the crest of musical waves, alternating and varying the screaming, growling and shades of vocal styles.
The epic appeals of cosmic currents captivate with a romantic lace of the Portals musical mystery, supplementing them with then distorted echoes of the negotiations of distant civilizations, but then anticipating the development of the next composition Home, the music prepares the ascension of vocal phrases interweaving screaming, growling and shades of harsh vocals in a bewitching round dance around the sparkling melodious axis. Driving a powerful index of rhythmic drive into the cornerstone of intro Peace then continues with a mysterious mystery, but then ground control sets the direction for further research, shrouded in the progressive artistry of musical variations and anticipating the introduction of vocals in the stately procession of a medium-tempo anthem, completing the album with significant inspiration from the discoveries.