October 22, 2019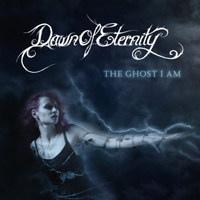 The title track begins the Dawn Of Eternity - The Ghost I Am album, rolling the waves of a gloomy dark anthem and bringing mesmerizing phrases of female vocals to the forefront of the musical image.
Raising the saddened atmosphere of keyboard notes and emotional experiences of vocals Predicament creates an atmosphere of despair and sadness. Anticipating the final part of the composition, music and doubtful female vocals is complement by the severe male growling.
Pumping up the waves of restrained drive, the chorus of the Mirror song scatters the clubs of sadness and the fog of sadness, Sreturning, however, in instrumental bridges and verses. hrouding the dark sadness of vocal reflections in verses, the chorus of My FriendS song lifts the banners of dark anthems. The vocal part confidently and persistently conducts a bewitching dance with the main motive, overpaying in the Lost Battle composition an alternation of pure female vocals and demonic growling.
The introduction of vocals sets the growling, the phrases of Face Me Down female vocals become sharper and tougher at first, but then, in alternation and duet with growling, they return to enchanting romanticism. But What I've Become female vocals are returning to pacified emotionality and an atmosphere of saddened doubtfulness. But the sound of Posession composition explodes with unrestrained energy and drive, flying away in rapid impetuosity, until the female vocals envelops Blinded with a seductive charm.
But fairy tales appeals are intertwined in the mesmerizing shades of phrases of the You Are The Light female vocals, completing the album with Time You Waste bewitching epic saga, enchanting with soft and impressive melody.