July 07, 2018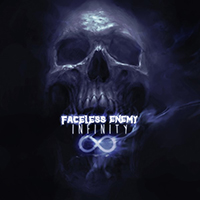 Full of melodic and sensual instrumental Intro begins the Faceless Enemy - Infinity album with a romantic melody, giving a wave of memories, full of pensive sorrow. But the next composition dispels the sadness of the violent drive of entry, returning to the romantic meditations in the chorus. The instrumental part shows the power metal influence, the guitar solo so rapidly develops, ending with a romantic chorus.
The We Fall Deep and Hard main motive hiding behind the unrestrained verses drive then appears as solemn melodic passages in the instrumental bridges comes to the fore of the composition in the choruses. The final guitar solo pays tribute to the origins of rock music.
Spicy musical waves bring a shade of oriental folklore into the Mr. Hero introduction, then music is carried away in a fast drive, returning the atmosphere of entry in the choruses. Proudly the solemn anthem rolls out the canopy of the Midnight Hour intro, then adds to the epic nature with a swift drive of the verse, returning to the inspired reflections in the chorus, uniting the drive and melody in a single rush.
Starting with a thoughtful romantic ballad The Reason appeals to feelings and experiences, then turning into a mid-tempo wave of proud appeals, culminating in denser rhythmic parts and a whirlwind of melodic guitar solo in the chorus.
Beginning with a tribute to the classic rock classic in introduction Voices turns to the modern musical tendencies in the verse, weaving these contrasts into the enchanting lace of the chorus. Weaving the epic melodic and mysterious motifs together, Way Back Home appears as the most successful composition of the album, joining the pantheon of the legends of the melodic death metal music.
Remaining faithful to the canons of the chosen genre Maybe returns to the origins of its formation, bringing the atmosphere of the 80s of the last century, supplementing it with vigorous and violent vocal phrases.
The Sick! track completing the album continues this style - as if the son is singing songs recorded by the father several decades ago.