December 09, 2020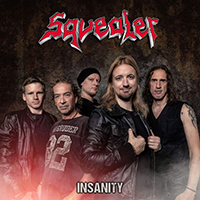 Whirling in a whirlwind, the Into Flames song then combines vocal haste with musical impatience. The pulsating drum roll continues the sound of the Squealer (DEU) - Insanity album with meditations, continuing with the mid-tempo anthem of the Salvation composition with elements of a battle march. The Bad Tasting Sin further aggravates the rhythm and rigidity with a harsh ballad.
Whipping up the waves of drive the My Journey sweeps everything out of the way of the musical stream with a frantic thriller. Inspirational musical storytelling combines the Low-Flying Brains melody and sparkling power of mid-tempo composition with a touch of romantic ballad. Whipping up a restrained whirlwind of drive in the intro, the sound of the Hunter of Myself composition soars in a playful mystery. The Insanity title track continuing the sound of the previous song, the music aggravates the severity and mysteriousness of the sound, restraining the swiftness of the musical canvas.
The bright musical sound is combined with vocal emotions in an extravaganza of the Lose Control as a very hit song. Drum roll sets an intriguing development in the atmosphere of oriental motives, but then the Power of Bliss vocals in the rebellious proclamations resist the viscous atmosphere of the spicy echoes. The final composition of the album Black Rain (feat. Bernhard Weiss, Zak Stevens & Roland Grapow), besides the symphonic sound, is very intriguing with the list of invited musicians who complement the vocal part of the symphonic ballad with the shades of their vocals.