December 10, 2020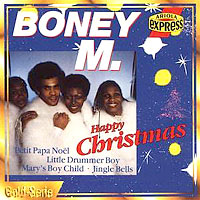 Beginning with musical celebration, the Feliz Navidad rolls with the playful brightness of the main motive, crowning the musical narration with vocal emotions. The rethinking of the Jingle Bells song dedicated to this holiday, performed with notes of reggae, continues the festive mood of the Boney M - Happy Christmas album.
The Winter Fairy-Tale dreamy instrumental symphony envelops with the atmosphere of a fairy tale, creating a romantic atmosphere of mystery and enchanting melody, complemented by the background singing of birds. Vocal chorales, weaving lace from several voices, set the mood for the Mary S Boy Child intro, then dance in a sparkling extravaganza of musical dance. The majestic echoes of church chants continue with the restrained joy of dancing musical passages, preserving echoes of church anthems in the Zion S Daughter vocals.
The When A Child Is Born vocals monologue brings inspiration of festive greatness, enchanting with gentle tunes, then complementing the musical composition with lyrical tunes of ballads, accentuating the main motive with keyboard tunes. The I Ll Be Home For Christmas dancing musical procession bringing male vocals to the forefront of the musical image completes the musical narration of the Christmas album.