September 13, 2016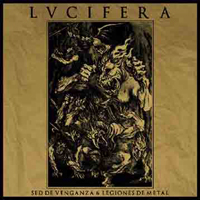 They will help you to prepare and perform, Lucifera - Sed De Venganza & Legiones De Metal all uncorrect forms have to be crashed and dispelled!
Wind howls in the empty weary spaces, the bells of Intro are asking - for whom we tolls?!
Slowly entering, preparing for a strange and inexplicable Pariendo Oscuridad then rushes upon us pack as crazed ghost creatures, breaking the perception and distorting all manifestations of reality.
Rhythmically and discouraging fighting against the Devotos parásitos, rampant and stunning in the verse, clear strikes drives in mind the words of the chorus!
Gutar fingering mysticaly starts the Miserables Esclavos like lyrical ballad, but evil don't hide in shadows - it have to be defeated! That battle driving and thrashing all around to the concrete foundation! Melodical gitar riffs marches like the anthem to overcome the evil 'till the end!
Sed De Venganza breaks in a rush headlong through the obstacles from the first notes, not allows to cancel its breakthrough to anyone or anything!
Exciting march through the crowd precedes Legiones De Metal, without slowing down the march to the drumbeat and strikes the chimes are not turning to izbarrnogo direction - towards the fate and destiny. Then increasing the speed for a while, completing all by the same confident and clear steps.
The sun's rays break and play through the lenses exceptionally memorable guitar solo at the beginning of the Guerra Infernal, then calms down and fade away... to reborn combined with the driving music and harsh vocals!
Caos breaking the shackles of the order, pulling towards freedom of choice and anticipation unrestrained imagination. Vocals, surrounded with fantastic guitar bursts breaks, rushes against any restrictions and prohibitions!
Hijas De La Oscuridad protesting steadily but surely and powerfully pious light, righteous and holy people and acts, denigrating and covering everything with its darkness. Inevitably are dense wall defect and severe sins, but in these unclean matters they need respite - which, after crushing the chorus itself satisfied in the instrumental part. Next - unholy rush again!
Procession of the legends of the past, the designs of the ancient ages proclaims next Rituales De Odio (Instrumental), inspired by the ghosts of the Kings to modern people, that have forgoten about their ancestry. Combining a lot of rhythms and melodies, reunites different ages and nations in a single garment, keeping it from breaking a constant variation of the structure, making it inaccessible external damage.
Lyrical guitar fingering riffs and the whisper of ghostly spirits tells us - that's Outro (Leviathan), so this artwork ends!