December 19, 2019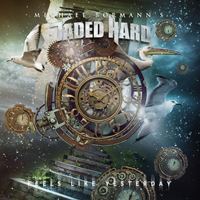 The vocal narrative of the Feel Like I'm Living song inspires thought, the musical whirlwinds of the guitar passages envelop the result of vocal reflections and elevate their banners in the chorus. The title track of the Michael Bormann's Jaded Hard - Feels Like Yesterday album continues these moods, but brings a certain shade of regrets in the verse, raising inspiration to the sound of the chorus.
Fascinating the guitar solo of the introduction, the vocal enters with restless experiences, but raises readiness for any trials in the main fragment of the Won't Surrender inspired ballad. Keeping some influences of romantic feelings, Bring Me Higher Love brings to the album some trends of country style. Creating a certain intrigue with the saddened feelings of the introduction, the We'd Still Make It romantic ballad raises the banners of encouraging moods, then repeating this combination again.
Entangling the listener with lace of the main motive, raising to a dominant position the artistic tunes of the keyboard passages, paying tribute to the arthrock of the 70s, the Mr. Mysterious composition captivates new fans. Starting with a gloomy fog with mystical ghosts, Good Times then facilitates and simplifies the sound, returning to the usual stylistic framework, continuing these musical motifs in the Just One More Step Away song. But enveloping the atmosphere of emotions, Don't You Ever Leave romance prioritizes and points to vital needs.
By setting a significant trend of power and significance by introducing musical passages of the introduction, I'm a Son of a Gun then develops from them the essence of the main motive, complementing vocal experiences crowned with a background of keyboard inspiration. Shout It All Out, more focused on ballad experiences and playfully inspired Everybody Is a Rockstar completes the album, walking along the line between a romantic ballad and inspired mid-tempo compositions.