December 19, 2019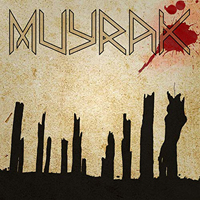 Irresistible thirst for life and readiness for any struggle, without lamenting to any opponents, sets the harsh sound of the We're Still Alive musical essence and inspired phrases of the vocal part. Wrapping up the introspective thoughtfulness of the introduction, At War continues the Muyrak - Muyrak album, somewhat accelerating the pace of musical narration with the introduction of vocals, returning to the refrain to the majestic unhurriedness of the harsh anthem.
Driving in waves of march, the Helldorado song again and again emphasizes its name. Enveloping and enchanting with melodic motifs of the Remains from the Past bewitching ballad, music creates enchanting images of dreamy images.
The tunes of the flute and acoustic guitar carry Emptiness into dreamy open spaces, but Shots in the Dark creates mesmerizing echoes of the music of heavy metal legends, paying tribute to their influence. Starting Land of the Dead with a chime of acoustic guitar strings, several different musical styles are embodied, fusing together an epic saga with an energetic rampant drive.
In a way, distorting the band's name and the album's title Muyrakitan song combines the ritual of an Indian (...or aztec ... or maya?) shaman and the pulsating energy of rock music. Setting the mood again with acoustic guitar passages (Let's Go) Trippin' then transforms them into artistic medium-tempo electric guitar solos.
This time, starting with acoustic guitar busting, Fear is embodied in the majestic triumph of a ballad, bewitching with wise thoughtfulness and significant thoughts, impressing the sound of these motifs in the guitar solo of the instrumental part. But, after majestic reflections, Monster Within ends the album with a swift stream of rampant drive.