February 11, 2021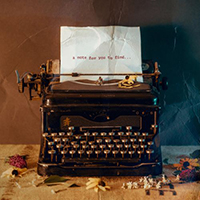 The Inside My Head song's confessions and revelations are accompanied by vocal inspiration and share plans for the day. Continuing the Anson - A Note For You To Find... album with hopeful inspiration, the Runaway punctuates the title over and over again in the ascended sound of the chorus.
Beginning with trembling vocal confessions, the Ghost song then whirls up a free-spirited ballad, but then picks up the tempo with some notes of drive. But the sounding of the Tightrope composition again begins with the anticipation of a ballad, but then slightly accelerates the tempo in anxious anticipations. Vocal inspiration is combined with musical impatience in the musical flow of the Find My Way Back Home song, which clearly expresses the desire for change. But already the sound of Unbroken songs enchants us with the romantic chime of acoustic guitar strings, complemented by the charm of inspired vocal tunes.
Whirling into a whirlwind of drive, the Gravity then with the introduction of vocals, it brings notes of emotional jerking with elements of progressive rhythmic fracture. The musical whirlwinds of the Back Into You main motive carry away exciting vocal dreams, intertwining with them in a single musical stream.
The intriguing reflections of the Bittersweet introduction are then dispelled by the musical artistry and vocal inspiration that anticipates the mystery of the Take It All Away last track, which enchants with a gentle ballad.