October 10, 2020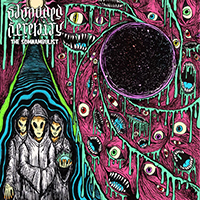 The mysterious intrigue of The Wizard cosmic impulses intertwines in a mesmerizing atmosphere of artistic ambiguity, anticipating with this intriguing mystery the sound of the first sectionThe Somnambulist I of title's composition dilogy of this release Shrouded Serenity - The Somnambulist (EP), at first exploding with a stream of frantic drive, but then constantly transforming, progressively and mesmerizingly complementing the sound with notes and majestic influences of progressive progressive music.
Starting with the guitar charm of a romantic ballad, it transforms with the introduction of vocals, complementing the solemn procession with notes of drive and calling for a progressive fracture of the rhythmic essence of the Zarephath musical composition. The Jaime's Bizarre Adventure track brings echoes of futuristic flair and old video games, whipping up intrigue with 8-bit pulsations Following the moods of complex and artistic transformations, the Void Shore builds an incredibly progressive composition, combining the pulsations of keyboard passages and futuristic echoes of space currents with bursts of vocal emotions. But the final fragment explodes into a musical thriller with a frantic drive, but then again cosmic motives rise up in anticipation of the rhythmic procession of the Oracle (Feat. Nuno Renato Guerreiro) majestic anthem, then unexpectedly transformed by a swift whirlwind of emotions and a burst of fury combined with the retreat of progressive keyboard suites to the musical background.
Starting with echoes of a cosmic fairy tale, the final part of The Somnambulist II title dilogy combines it with a changeable drive, combining deep growling and playful screaming in the vocal part, then flying away in a whirlwind of rapid nervousness. The final composition of the album Pagan brings the valiant march of the battle march to its sound.