October 10, 2020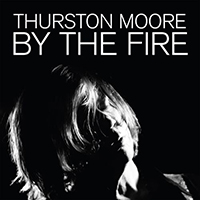 Starting the Thurston Moore - By The Fire album with a disturbed guitar solo, accentuating unclear expectations and disturbing understatement, the Hashish music rolls over with a vague atmosphere of unclear intrigue. But vocals bring hopeful hues to the musical narrative. The music of the Cantaloupe song progresses with a denser and more rhythmic sound, combining musical anxiety and vocal hopes.
The guitar solo of the intro brings the atmosphere of a romantic ballad, but then more and more waves of sharp drive burst into the musical atmosphere of so long and multifaceted Breath composition. Dispelling variations of gloomy forebodings and a pile of frightening experiences, the Siren song captivates with an inspired atmosphere with a romantic ballad, marching at a somewhat accelerated tempo for a ballad. The Calligraphy track's music again accentuates the rhythm of the guitar solo, but crowns these musical passages with soft and soothing vocal reflections.
The Locomotives rhythmic slapping on the tambourine and the mystical mystery of musical transformations bring the atmosphere of shamanic rituals to the album's sound. But then the guitar and keyboard passages bring the progressive artistry of musical variation to the sound of the composition, then simplifying the sound for brooding vocal reflections. The guitar solo dispels the mystical mystery of the ritual atmosphere, enchanting and preparing for the Dreamers Work intro of muted vocal tenderness. But the final compositions of the album They Believe In Love [When They Look At You] and Venus again brings an atmosphere of mystical mystery.