July 24, 2022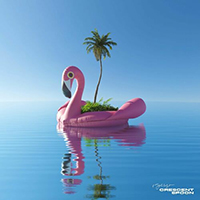 The charm of the Pillowcase guitar solo is the introduction of the Regressor - Crescent Spoon album, intriguing with musical mystery and developing the progressive melody of these musical motifs in the Fruit Crush (feat. Owane) composition, complementing the melodic charm with musical improvisations and notes of romanticism.
Further developing the sensuality and romantic charm of The Squid King (feat. Sam Birchall) ballad, the artistic lace of musical charm weaves, then combining the epic echoes of the sagas with the charm of progressive musical variations of the Garden Party composition.
Once again, the soft enchanting tenderness of the Yesterday's Orange guitar solo is the introduction to the next chapter of the album, in which the Moonlight Chef (feat. Sam Rapley) composition combines notes of doubt with a charming lace of musical variations. As if echoes of the magical rituals and prayers of Tibetan monks create a musical atmosphere of the Saffron Sunset instrumental artwork and the final album of the Crescent Spoon (feat. Arenlong) title track's charming composition.