April 11, 2021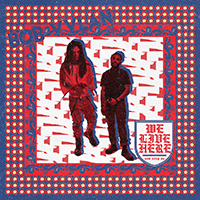 The Intro is expressed as a preface, deriving a vocal curvative on the forefront of the musical image in the form of an emotional monologue, indicating the significant features of the Bob Vylan - We Live Here conceptual album, that is continuing persistently and persevere perturbed appeals of the title composition.
The vocal monologue goes to the forefront of the musical image of the England's Ending song, supplemented by electronic ripples and unclear background handles. The Pulled Pork continues the vocal domination, combining the vocal batch in the duet and alternation of votes and the fierce music passages in the harsh fierce of gloomy premonitions.
The vocals again and again focuses on the name of the Lynch Your Leaders song in the choruses, explaining and unfolding the semantic canvas in the verses. The Northern Line is entering with the dominance of bass guitar solo, component then displays the atmosphere of punk rock 70x music with a recitative of vocal frenzy.
Music of entry marks the Save Yourself vocals doubts by the covers of non-beams, slowly sledging through twilight premonitions. Then the music is accelerated and harvested in the final assault. A Moment Of Silence girl's phrases are completing the implementation of ideas conceptual album.