April 10, 2021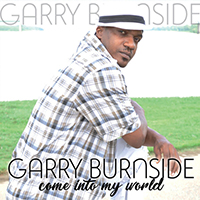 Inspired, artistically and elevated the Gave Me the Blues song starts the musical narration of the Garry Burnside - Come Into My World album, vectors vocal phrases with bright guitar solo and majestic keyboards.
Romantic atmosphere envelops the I Don't Know About You ballad's vocal reflections veils netorplivyh musical passages, crowned with notes of keyboards thoughts.
Music and vocals alternate in the foreground of the Bad Luck musical image in artistic improvisation. The Holding My Woman song develops a blueslight stylist, setting the mood of the lion of vocal with guitars.
The dispersion of any shades of disorder, the LD composition in an inspirational walk, complementing vocal reflections, shrouded in the artistry of guitar and keyboards encouraging overtakers of wind instruments.
Guitar solo fascinates on the expanses of jazz improvisations, enchanting the Jam Up Jelly Type inspiration of instrumental artistry and discarding the musical sludge. The She's Gone completes the album with twilight shades of a thoughtful blues.