February 24, 2018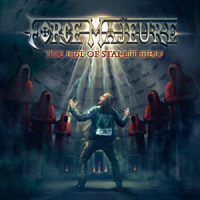 Technogenic motives and tunes of obscure fairies of Gemini Rising support the beginning of the Force Majeure - The Rise of Starlit Fires album, continuing its obscure and enchanting motives, developing conjectures in vocal phrases in enchanting meditation.
The zealous enchanting combination of drive and inspirational Apocalyptic Hearts lofty vocal ambiguity blends together, continuing to flourish about his idea always and everywhere.
Sparks of the technogenic extravaganza flicker into the introduction, while vocal Blessed by the Wolves complements this continuing previous compositions with its epic narrative. Paphos and extravaganza continue their epic production in the The Great Starfall song, symphonies are more constrained at a pace, the vocal subordinates the musical picture to their phrases. The grandiose epic leveling everything around, then the vocals pierce the Church of Steam essence with their reflections .... nothing else, epic and pathos come from everywhere! And more meaningful and weighty reflections begin and develop in the Pantheon of My Passion composition, incredibly flirting with progressive and mysterious motives, completing the album in the spirit of unconscious reflections.