February 25, 2018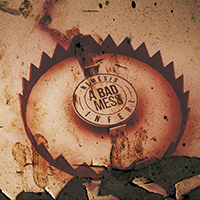 The playfully dancing motive and the provocative vocal part are intertwined in a dark washbasin Never on Your Mouth, starting the Nemesis Inferi - A Bad Mess album with a series of unfulfilled promises, illusory temptations and an unclear charm.
The dark fog envelops Breaking Bad with the searing haze of the twilight melody, in which the invisible ghosts twirl in obscure outlines, the vocals exaggerate the twilight and slow down the pace, meditating on the foundation of the subsequent mid-tempo drive.
The Hate My Name main motive is fascinated by a fascinating story, vocals and music merge into a single stream of musical passion. In the instrumental part, a complex unpredictable rhythm and a guitar solo seem to be thrown around by ideas and fantasies, drawing more and more attention to their improvisations.
The dark, mysterious introduction, like a swarm of furious wasps is confusing with apprehension, the vocal complements these vague guesses with some playfulness, the breeches show such a charming motive that all anxieties remain aloof from admiring impressions. In the chorus the Rising name of the song is accented. Bass guitars solo starts charming ballad Anything Anymore enveloping everything around thoughtful meditations about feelings and emotions, hiding unnecessary reflections in the romantic sounding of such an impressive composition.
The rhythmic march accompanies the main motif of the title track Bad Mess, adorned with a sparkling and sparkling guitar part in the introduction and instrumental breeches. Before the choruses the vocal again and again tries to prove its ignorance of the causes of the ritual horrors. At the audition it seemed that Crawling in the Dust just a cover version of another band's song - so epic motifs were played out so artistically and mellowly - that is peculiar to other musical genres. But then the enchanting epic of the main motive gained strength and importance, while retaining its artistry and unique magnificence. After the ascension of the epic ballad to unattainable transcendental heights in the composition, more familiar solutions for this music style and melodic solutions are revealed.
The most rapid and harsh composition Vertigo completes the album with the most familiar trash metal with unrestrained energy and violent rabies. Vocals somewhat restrain the race of guitar passages, although it sounds much tougher and more severe than in other compositions, but does not stop the outbursts of destructive drive.