April 07, 2017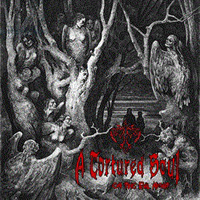 Gloomy, unforeseen feelings cover with anticipation of what can and will happen A Tortured Soul - On This Evil Night !
Slowly, intriguingly title track On This Evil Nightbegins, whisper insinuatingly and gently turns into sharp vocal cries, music rhythmically and nervously creates an atmosphere of future aspirations.
Hard, severe rhythmic blows are asked hurried, ragged and sharp Crimson track. After the violent verse there is a rethinking in the bridge, then the next angry and furious jagged beast ... but the chorus is so thoughtful and painful to be.
Hard, rhythmic and variable rolls of the Black Dragon tale rotate the musical image in a constant vortex, again and again! The chorus focuses the music streams in a single channel, but the guitar solo re-twirls the vortex stream.
Burden and drive competes at the Dreams intro. Then the vocal part takes off above the clouds, piercing the falsetto streams and images of the universe, then pacifies the height of its timbre and continues in the customary and usual manner. Guitar solo leads to the expanses of lyrical romance, the vocals again combine different styles and timbres, combining them together in a kind of duet.
Romantic lyrics covers from all sides, thickening a dreamy and melancholy atmosphere in All Alone ballad. In the instrumental part, the music is saturated and complicated, the guitar solos hug each other, the tempo increases and becomes heavier ... but the romance returns again.
Bass solo starts the Smoke sounds, that turns into driving tale, swiftly and sharply sweeping through its musical image, the vocal fiercely pierces the space with his phrases, guitar fury pokes hard rhythmic impulses.
Hard, harsh rhythm continues strong, stubborn Waiting for Death promotion through obstacles. Rhythmic pattern was replaced, but it is wonderfully combines with furious vocal phrases.
The Ripper's tightly developing in the severe whirlwind of the gloomy round dance, melancholy and persistent pursuit of dark, viscid ghostly threads.
Bass solo comes to the fore again, guitar joins to that performance later, then Mourning Son summons all another instruments in the fierce instrumenal rush. Vocals, after a long impatient wait, complements the instrumental impulse with a hint of its sound. Then, instrumental impulses changes tempo time after time, varying the musical image correspondingly to the desire to introduce diversity.
Murdering completes the album, pensively and deliberately juggling rhythm and vocal styles, embracing many styles and directions of music. Well, it certainly will make you think and choose.