December 11, 2018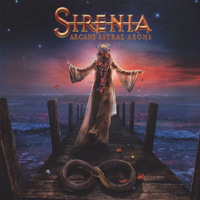 Mysterious iridescent tunes end up with choirs of female vocals and call for the unification of symphonic motifs and metal drive. The introduction of the In Styx Embrace vocals anticipates a harsh riff, but the singing lady rolls the veil of charming melody, but then the demonic growling calls for a wave of drive. These alternations are repeated again and again, in the instrumental part of the Eastern trends of mysterious wanderings complement the composition, culminating in a fierce and emotional vocal growling enveloped in the enchanting veils of melodism. The final part begins with an acoustic ballad and continues with alternating incredible musical diversity.
In the next composition Into The Night of the Sirenia - Arcane Astral Aeons album, the female vocals come to the forefront of the musical image, the musical symphony retreats to the background, returning with chorus supporters in choruses.
Love Like Cyanide continues the musical canvas, perhaps the album's most hit song, which begins the narration by accenting the title, then weaving fascinating motifs of popular music together with dense metal passages with lines of symphonic lace. The style of unity with popular music continues in the Desire, perhaps the most striking and fascinating episodes of the composition is to highlight the parts where the singing lady pays attention to French-speaking lyrics. The vocal monologue precedes the further development of Asphyxia in the gloomy shroud of mysterious revelations, developing a fascinating canvas of a gloomy hymn. It is worth noting that the vocalist's French sounds much more interesting.
After the instrumental introduction, the male growling comes to the forefront of the Queen Of Lies sound, then the female vocals bring in a wave of emotional experiences, and in the instrumental bridges the flow of ancient legends envelops the composition with gloomy mysteriousness.
A pensive romance envelops the beginning of the story with an obscure haze, then the romantic reflections of the vocalist add charm to the Nos Hueres Sombres composition, especially considering French lyrics. The Voyage continues this marvelous romantic story. No, this song's lyrics clearly enchants and transform the sound of the compositions, giving them a kind of unique charm.
The Aerodyne main motive and vocal part are intertwined in a fascinating dance, captivating thoughts after their sound. Then the male vocals roll out a brooding story anticipating the instrumental extravaganza and demonic growling, culminating in the final triumph of the main motive.
The solemn narration majestically reveals the epic limits, then the vocal complements the The Twilight Hour composition with influences of opera motifs, weaving together musical streams into a single spellbinding musical extravaganza.
Acoustic ballad precedes the beginning of Glowing Embers composition, combining symphonic chorans with emotional experiences of a singing lady, wrapped with vines of romantic melodies, intertwining fascinating musical lace around vocal phrases.
Reconsideration of the main hit of the album Love Like Cyanide (Edited Version) (Bonus Track) completes this musical artwork.