December 10, 2018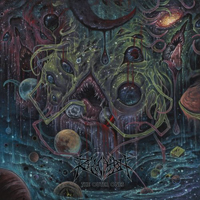 Furious frenzy whips up the gloomy shroud of impetuous drive, then the sparkling fascinating melody of the instrumental bridge gives a romantic melody to the Of Unworldly Origin composition, recreating the true appearance of the Revocation - The Outer Ones album - a progressive unity of furious power and pensive melody. The instrumental part fascinates with incredibly melodic guitar solos, creating a fabulous atmosphere, culminating in an impetuous wave of drava, woven over by a changeable vocal part intertwining screaming and growling together.
At first, concentrating musical experiences in a dense haze of reflections and experiences, then the vocal breaks off the shroud of That Which Consumes All Things narration, but again and again it comes back to meditations. It should be noted that such changeable and contrasting musical streams are combined very, very successfully. Then the vocals are tightened and compacted into a deep, stern growling, culminating in a melodic guitar solo. In the final part of the composition is transformed into a gloomy, majestic dark instrumental march, which sets the beginning of the Blood Atonement song, complementing the narration with vocals. But vocal again and again brings the experience to the forefront of the musical image. Then unbridled rage is embodied in the verses, ghostly castles of dreams rise in the instrumental bridges, rising in the experiences of the choruses.
The sparkling axis of the melodiously and progressively builds up, then Fathomless Catacombs is carried away in a swift drive, culminating in the gloomy cover of demonic thinking, but the axis of the leitmotive pierces these covers like a righteous blade, unbridled in the sharpness of thoughts.
The title composition The Outer Ones fascinates incredibly complex interweaving of melodic passages, creating an intriguing lace of mysterious motifs, intertwined in a unique fractal structure around vocal reflections.
Dense instrumental rock completes the title track and calls for unhurried narrative, supplementing the Vanitas vocal phrases with so unhurried leisurely instrumental echoes.
The interlacing of melodious streams fascinatingly combine, unite and interlace in the Ex Nihilo instrumental composition, with a fascinating fascinating ballad, alternating with torn jerks of a progressive pastoral.
The axis of the Luciferous main motive takes on incredibly progressive musical decisions and chooses the style of the classic metal death, however, the trends of progressive musical passages soar around its path like magic shades, calling out sometime akin to the art track in the guitar solo of the instrumental part anticipating the final chorus.
Final album's composipion A Starless Darkness toughens the sound in the viscous viscosity of the impenetrable haze of the intro, then the thoughtful romantic guitar solo anticipates the gloomy ballad. But shrouding vocal experiences with dark, mysterious melodies, the song rejects the all-embracing gloom with an artistic guitar solo and ends with a swift drive, casting aside the descent of darkness into a desire for light and freedom.