December 12, 2018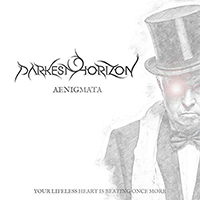 The enchanting atmosphere of a dark symphony is woven over the Omnipotence Paradox introduction with the sparkling branches of the stealing lace, then the vocals alternate between screaming and growling, creating the beginning of the Darkest Horizon - Aenigmata album's fascinating atmosphere.
The pensive passage of the organ is cut short by the main motive of the Enigmachina composition, which creates a tinge to the leitmotif of the album, then vocal screaming and growling echo in a duet, enveloped in sparkling extravaganza of enchanting symphony.
The vocal phrase calls for the development of the musical canvas of the Tempus Inversus song, then the music is twisted with enchanting lace around the vocal reflections, swiftly carried away in melodious passages to fascinating illusory blessings. In the instrumental bridges the symphony comes to the fore in thoughtful reflections, but then the vocals, alternating between screaming and growling, rush back to their goal.
The dark mystery weaves a fascinating veil of mystical chorals and mesmerizing organ symphony, then the The Lunar Effect dark symphony is carried away on the wings of the evil entity, enveloping vocal reflections with an enchanting haze of wonderful melody.
Dreamy romance envelops with an obscure twilight of feelings, then a round dance of vocal changes of screaming and growling whirls in an enchanting dance of the Cryonics main motive, captivating the mind and consciousness with a fascinating and impressive tune, from time to time complementing the melodic lace with epic influences of ancient legends. Dancing in a pulsating galloping drive, the Pandora turns to a solemn march, rolling out a charming canvas of the majestic hymn before the growling. But dark sacraments arise from the background and bring their shades into the musical narration, the enchanting chime of keyboard passages arises again and again.
The mysterious mystery weaves a fascinating lace of mystical covers, then the musical image of the Elysium song alternates rapid frenzy with vocal screaming and thoughtful reflections with deep growling.
Keyboard suite in the The Spectral Hours intro sets a majestic mood, developing in a solemn hymn and majestic narration, enveloping the alternation of growling and screaming with the enchanting atmosphere of gothic ballads and epic fairy tale trends.
The album ends with the Catharsis for a Heartbeat song's swift drive, shrouded in sparkling sparks of symphonic cover, but sweeping away any obstacles and proving - a powerful drive and a charming symphony are quite capable weave into a single musical narrative.