April 09, 2019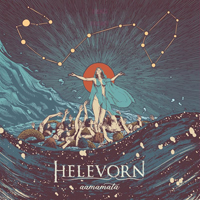 The main motive wraps itself with the whirlwinds of its sound, then the sound of the A Sail To Sanity composition complements the vocal phrases of the severe growling. But then the musical image of the song complements the thoughtful pleas of clean vocals, fully showing the style of the Helevorn - Aamamata album.
The music is filled with gloomy romance; clean vocals begins the Goodbye, Hope composition by chants of saddened romanticism, growling only then brings a certain severity to the chorus.
Clean vocals raise a whirlwind of inspiration, fulfilling thoughts with future hopes, but musical twilight in the Blackened Waves instrumental bridges continues to hold down thoughts with gloomy fetters.
Oriental motifs and the enchanting charm of female vocals complement the sound of the album with new shades, introducing the Aurora composition with new stylistic shades.
Pumping up the nuances of anxiety and worry, the vocals roll in waves of dark forebodings. Keyboard passages crowns the Forgotten Fields musical image and create a gloomy background for the musical narration.
Moving away from the English-language lyrics, Nostrum Mare (Et deixo un pont de mar blava) builds a compositional structure on the dialogue of female and male vocals, alternating their Spanish-language phrases.
Darkly and painstakingly setting the direction in which the main motive will follow in the future Once Upon A War keeps clean vocals on the front captivity, complementing the vocal part with growling choruses.
Enveloping with the epic atmosphere of musical charm, The Path To Puya weaves mesmerizing lace of clean vocals and growling, supporting them with majestic guitar riffs and enveloping with charming keyboard passages.
The album, full of fabulous charm, ends with La Sibil-la acoustic romance, in which the Spanish-language lyrics of the vocal part are intertwined with brooding passages of an acoustic guitar, with a twilight background created by symphonic keyboard delights.