January 03, 2019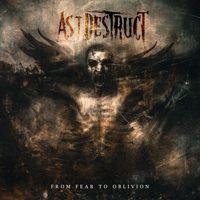 The soft and majestic keyboard instrumental passages of the Prologue appears to be the introduction, anticipating the diversity of the musical narration of the As I Destruct - From Fear To Oblivion album. The first passages of the Shattered Hearts intro accompanies this atmosphere, but with the introduction of vocals, the majesty and charm of classical motifs are woven together with a harsh and powerful drive. In the chorus, music and vocals reflect and fascinated in ingratiating unhurriedness, epically uprising the experience of the commonplace in the majestic plea for unforgettable divine graces.
The revolting echoes of the Black Tie Stigma intro are replaced by broken rhythms of jerk, consonant with jerky vocal exclamations. Then the instrumental bridge precedes the interlacing of these streams, introducing spicy trends of Eastern folklore into the passage, introducing epic trends in the chorus and the final part, continuing pulsating march of the Greed Agreement composition. In the bridges and choruses of the marching echoes are replaced by a significant and majestic anthem. A Question Of Faith continues the majestic narration, showing the epic narrative of the main motive already in the intro, vocal phrases fascinatingly highlight the musical passages sparkling with significance and inspiration.
While retaining all the same epic grandeur, Asher's Lullaby vocal phrases are jerking, music pulsates in a spellbinding doubt, electing stylistics in the middle tempo narration and leaning now towards a dense and stern march, now towards a brooding ballad romance.
A dark haze of obscure doubts envelops the My Endless Love viscous musical twilight, then whipping up a furious flow of drive, but returning to a pulsating doubt before the vocal, which combines these different musical passages, weaving them in a single gloomy premonition.
Driving in the piles of intro Vultures Of Virtue is then carried away by a rapid flow of unbridled rage, preceding the majestic dusk of the Thredson composition, embodying in full measure the forerunner of the final segment of the previous song. Exploding in a furious stream of drive in the verses, the choruses envelop the majestic atmosphere of an epic narrative.
But swift musical whirlwinds alternates furious drive and twist the anticipation of vocal phrases with sparkling medium tempo changes. Well, crowning the variability of the Devil You Know (Devil You Created) composition, the chorus crowns the narrative with sparkling epic tales, then in the instrumental part a certain shade of futuristic electronic musical influences manifests itself.
The pulsating mid-tempo march Redemption brings in the spirits of spicy oriental eposes, then the threshold of vocal addition sweeps up a gloomy musical cover, combining the atmosphere of such diverse wanderings together, pumping a wave of gloomy drive in bridges and pulsating trends in the epic narration in the chorus. Epilogue completes the album similarly to the beginning, saddened by the romance of keyboards, introducing anticipation of the coming prophecies.