January 04, 2019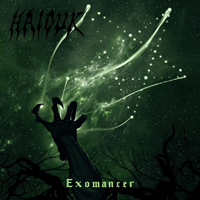 Death Portent begins the narration of the Haiduk - Exomancer album, enveloping the development of the further motive with a gloomy haze, from which the swift beasts escape, shrouded in iridescent dark sparks, carried away in a swift drive. Then brief vocal phrases interrupt hurried jerks, returning the music to an eccentric twilight, pierced by ghostly doubts. Thoughtful foreshadowing completes the composition, rising in an obscure mist of the Unsummon intro. But then the music appears as a procession of dark knights, rolling with irresistible force, the vocals briefly heralds the arrival of these indestructible and invincible dark forces.
As if accumulating energy and thoughts, the Evil Art intro envelops the anticipation of the development of the main motive, pumping and complementing the intrigue, but complementing the introduction with only a brief vocal segment and completing the composition with a mysterious medium-tempo fog, which develops into the Subverse initial segment. In this composition, thoughtful musical reflections are interspersed with bursts of rapid drive, combining in a very diverse and fascinating musical lace.
The epic narrative begins with a flurry of fears and frightening forebodings, whipping up a whirlwind of musical fears of Icevoid Nemesis song the development of subsequent musical events, like filled with horror and fear Doom Seer, that is developing in a dense middle-tempo march. But the incredible whirlwind of Pulsar cosmic radiation brings streams of inexplicable phenomena, rolling lik an irresistible wave of fierce drive.
Tougher sounding Blood Ripple turns the furious whirlwind of musical passages, taking away perception in a runaway deadly dance, enveloping the development of musical ideas with spicy trends of oriental motifs.
But rejecting the line of hardening and bitterness of musical outlines Once Flesh returns to the space of epic twilight, enveloping the thoughts and aspirations of a mysterious intrigue and transforming the narration into a dark tale. Crypternity completes the album, weaving furious drive and epic fabulousness in a single musical image, giving the latter a dominant role.