April 03, 2017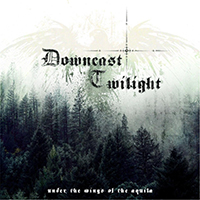 Ancient legends combines flute, violin and explosions of musical rage in an epic and unforgettable Downcast Twilight - Under the Wings of the Aquila !
Significantly, solemnly and grandly enters Rex Nemorensis, then breaking off in a swift splash. Then the music leans towards strong confidence, that causes to tell the story unhurriedly and stubbornly.
The melody of the flute permeates the whole Soldier of Pompeii sound as sharp blade of the leitmotif. Vocal phrases and other instruments creates detachment that supports and recreates the charming melody in its unforgettable sound image.
Confidently the sound of The Witches of Anglesey fairy tale, above which hovers gentle and calm motif of the flute, which drives the dance of ghosts among invisible clouds.
Folklore motifs in a reverie recreate the melody of a flute, intriguing in mysterious unusualness. Then the changeable rhythms and enigmatic chorals on the background combine into The Tyrant and the Sage, melancholic and sad ballad.
Hard, tough The Ides of March Obstinately and inexorably paves the way through obstacles and tribulations, not kneeling before anything. Then the pace increases, haste on the road requires attention and concentration. But this does not hamper adherence, sometimes supplemented with inserts of the tunes of the flute on the road.
So confident and dense drive evolves into Death in Alexandria inexorable story. Grim melody, restrained and balanced pace in the verses is transformed into a delightful, sad in its charm, the melody of the chorus. Violin passage in the end encouraged to forget past failures.
Violins and guitars continue to maintain the atmosphere of twilight, dark fog in the Orgiastic Lupercalia, enveloping everything around with a haze of lovely sadness. Vocal phrases are gently but severely growling the shades of its sound into the musical image.
Hard, furious and grandiose drive enthralls you to follow The Ironclad Legion procession. Darkness finds hard, clear and unconquerable shapes.
The darkness and horror of the gloomy legend Horrors of the Hercynian Forest envelopes with gloomy, furious motives, crushing heroic desires. In the chorus, the violin breaks to the forefront of the musical image, then its solo rising over the musical pattern.
The solo of the flute begins the last tale of the album The Red Queen, then the singing lady creates a pensive romance of a mysterious lyrical ballad.