March 06, 2020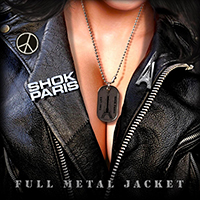 Thoughts and a description of The Creed armor and ammunition that it have to confront begins the Shok Paris - Full Metal Jacket album, continuing with its fast-moving and driving musical thriller of the title track.
Singing a vocal full of sad emotions in introduction Nature Of The Beast is then converted into a pulsating mid-tempo march. Wrapping the axes of the main solo and vocal part with guitar solo tapes, Do Or Die unquestionably captures the attention with hit sound. Driving hard piles of a harsh path Metal On Metal rolls waves of a rhythmic medium-tempo composition, emphasizing vocal phrases and lifting them to the crest of musical waves.
Fascinating with a bewitching melody Brothers In Arms weaves vocal phrases and guitar solos in a bewitching and charming dance, weaving an incredibly bewitching lace of melody. Curling a fascinating tunnel of musical passages surrounds a guitar vocal solo narrative, emphasizing again and again the Black Boots name in the chorus. Fascinating the guitar solos of the introduction and accentuating their turns with rhythmic beats Hell Day is then carried away in a fast-paced race of rampant drive.
Walking in a rhythmic march Those Eyes raises the banners of meaningful melodism, entwining them with majestic vocal appeals. Fall From Grace complements the album with another fast-paced musical race, raising vocal phrases to the top of the musical stream.
Charming medium-temporal musical canvas of the inspired anthem Symphony Of The Sea complements the album with an epic saga about sea wanderings. Supporting the epic sound Up The Hammers completes the album with a heroic saga, honoring the valiant feats of warriors who will forever remain the pride of the nation.