November 25, 2020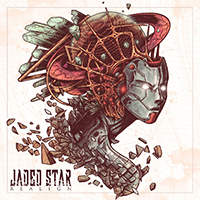 Entering the guitars solo variations, then the singing lady's vocals fully embody the Female Fronted song title, along with a harsh mid-tempo march. The Breathing Fire continues the sound of the Jaded Star - Realign album with futuristic keyboard impulses of the intro, complementing them with notes of drive that recedes before the vocal charm. Romance inspiration of A Pain All Mine ballad weaves vocal and musical whirlwinds in a mesmerizing dance. The Maybe song brings vocals to the forefront of the musical image, weaving a lace of feelings and emotions in an enchanting symphony.
While retaining melody and charm, the Adrian brings progressive elements to the sound of symphonic rock. Stumming again with modern musical variations, the Children Of Chaos then rolls out the musical red carpet for the epic anthem procession. The Rise Up vocals part combines the dominant tunes of the singing lady and the backing vocals of her teammates.
The We're The Heroes (A Song For Us) music brings an atmosphere of striving for adventure and challenge, complementing the vocals with the same background singing. The Vertigo music and vocals further embody the anticipation of travel and new discoveries. The final composition of the album Higher Than Lovecaptivates with the sensual emotionality of female vocals.