April 29, 2020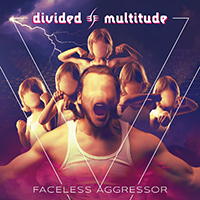 The mysterious instrumental symphony Chapter 2 precedes the title track of the Divided Multitude - Faceless Aggressor album, weaving a bewitching lace of progressive musical passages and emotional phrases of vocal experiences.
Walking in inspirational musings, the Counterparts musical passages entwine vocal doubt with vortexes of musical artistry. Then the self-titled Divided Multitude composition pumps the twilight with a drum roll, pulsating with the clouded atmosphere of a harsh march. The introduction of vocals brings a twist of intrigue and emotional experience.
The vocals comes to the forefront of the musical image of the Uninvited majestic ballad, marching surrounded by inspired musical lace. Weaving the intricate whirlwind of guitar solo into introduction Prosperity Divine (The Machine of Mammon) then flies away with a swift stream of furious drive, then varying the pace from a hard musical thriller to an inspirational narrative of a thoughtful anthem.
Rolling the musical canvas of the epic narrative, False Prophecy pumps up an ever-increasing intrigue with the guitar solos of the introduction, preceding the introduction of the vocals with the pulsating heartbeat of the musical organism, complementing the vocal part with an exciting guitar solo. Evolve captivates with an exciting intro guitar solo, then weaving the musical passages with the vocal part in a mesmerizing dance.
Walking in a stern procession of a valiant battle march Out of the Ashes supplements musical pulsations with a majestic narrative of a vocal tale. Psalm of a Soldier concludes this release with a magnificent ballad, complementing significant vocal phrases with the soft melody of the instrumental saga.