October 24, 2018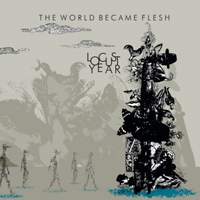 Tightly, rigidly and excitingly, High Sang The Soil starts the Locust Year - The World Became Flesh album, complementing vocal pleas and inquiries with trends of predictions and legends, then a cry calls for an acceleration of tempo, but the evoked spirit incredibly progressively transforms the musical image Doubting and mysteriously anticipating the development of the The Oracle composition enters with a spellbinding haze, then entangling the leitmotif with lace of vocal variations.
Pulsing in an incredibly progressive and complex rhythmic lace Hothead Orientations develops the main motif in the mid-tempo narration, giving musical ideas to the power of vocal omens and preferences. Romantic ballad Operations Behind The Veil envelops with emotional issues of vocal reflection, complementing them with a very impressive musical background.
Developing the musical ideas of previous reflections and the entire album, Descent throws in an incredible amount of musical delights, flavoring them with exciting progressive musical solutions.
Locusts and Night Beings appears as a brooding, melodic instrumental introduction. Then the Trespassers is exploding with unrestrained strivings, the vocals carries the musical passages to progressive development, transforming from nervous harsh into doubting pure and repeatedly transforming in the course of the composition.
Ascending in a quick, changeable musical way, Cold Song For Charlie D is in every possible way influenced by vocal changes. But here it is worth admiring - the vocal combines so many styles and directions - that it makes no sense to describe, but be sure to listen!
Fiercely and drivingly starting Flight Plans is transformed into a session of questions and answers of indignant harsh and dreamy clean vocals. Flies Towards The LightSliding and transforming into incredibly complex and entangled rhythmic structures, Entry 1 envelops the mind with a heap of guesses, then the vocal continues to expand the scope of the album .... it's hard to believe that this is his last composition. I will wait for other band's releases!