May 22, 2022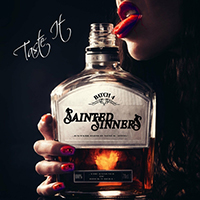 The intriguing introduction of the Against the Odds composition is completed with the artistic sound of musical passages, crowned with inspired vocal phrases. The One Today track continues the Sainted Sinners - Taste It album's musical narrative with assertive vocal proclamations, pushing with a stubborn and confident mid-tempo march.
Rhythmically accentuating the musical step of the sound of the The Essence of R'N'R song, the compositional pattern brings vocal significance to the foreground, complementing the main vocals with the support of musical associates. The Out of Control intro's guitars solo captures the role of the main motif of the composition, enthralling in wanderings following vocal perseverance.
Marching rhythmically and confidently, the Never Back Down march follows the chosen path of sound, preceding the sparkling swiftness of the drive of the Good Ol' Company composition in the unity of music and vocals in a joint musical stream.
The viscous and painful sound of the Down & Dirty song shackles with musical twilight, but then the artistry of the On & on (Chained) composition captivates with artistic intrigue.
A tribute to the legendary artists with the Losing My Religion (Bonus Track) (R.E.M. cover) wonderful song opens the gates for the procession of the final part of the album, continuing with celebration and playfulness. The Coffee, Whiskey & Rock'N Roll composition and romantic atmosphere of the Heart of Stone ballad.