May 22, 2022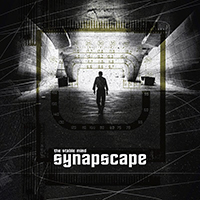 Track Listen begins the musical sound of the Synapscape - The Stable Mind album with the rhythmic clapping and twilight mystery of the vocal narrative, peppered with sparks of electronic pulsations, bringing such a stylistic solution to the forefront of the musical image of the Men And Gods instrumental composition.
Rhythmically, confidently and assertively marching the Talk To Your Crow vocals complement it with militancy and assertiveness of sound, continuing to develop stylistic and compositional vocal significance in the sound of the Collide track.
The mysterious musical atmosphere of the Wastelands composition envelops the obscure mysteries of the twilight haze, in which the Revive track then presses with the pulsating persistence of a rhythmic musical heartbeat with vocal assertiveness, anticipating the twilight mystery of the What Side Are You On song.
Assertive pulsations is rolling in waves of the sound of the Reproductive Loss track, driving their pulsating heartbeat into the mysterious musical essence. The Doused With Gasoline composition then accentuates the atmosphere of its mystery with the electronic pulses of the leitmotif, progressively developing musical mystery with echoes of cosmic currents in the artistic sound of the They Will Have Been Landscaping final composition of the album.