October 12, 2018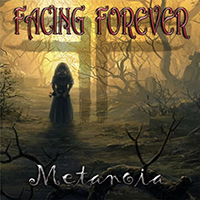 Spiritually and inspired beginning in the progressive interweaving of musical passages, in the Show Me The Door introduction a wave of bright romance rises, and the main structure of the first album of the Facing Forever - Metanoia album is built on the dialogue of male and female vocals. In the instrumental part, guitar parts weave a complex and fascinating lace of musical delights. In the final part, female vocals triumph in the dispute and occupy a dominant position in the musical image, then it's appearing as background chants in introduction of the next composition Brave Enough To Love You, in the couplet of which continues to dominate. Doubts and experiences envelop the thoughts of a singing lady, but the background support for male vocals ends with an inspired romanticism.
But doubts do not go away, returning to the full of anxiety Mouthful Of Lies composition, completing the waves of foreboding with magnificent bridges, turning the song into a solemn hymn dedicated to the excelled difficulties and passed trials.
The revelations of female vocals are completed with a reflection-based Beautiful Symphony composition, in which female vocals are asked questions that are sought for answers with the help of background male vocals.
Setting the mood in the Fellowship Of Plastic Smiles introduction of female vocals bogged down in stingy musical passes, entangling the bonds in the verses, especially tightly imposing their sound in bridges. But in the choruses, the vocals raise the proud phrases full of hope and faith.
But experiences and anxieties return again, enveloping the mind and thoughts with foreboding, holding down the tempo of the The Great Disappointment composition in a pulsing lace of progressive musical passages.
The notes of romanticism, covered with the covers of light sadness and unhurried thoughtfulness, covers the complex rhythm of the Subtract And Disconnect track, weaving together progressive musical motifs and thoughtful romanticism of vocal phrases in its sound.
Playful notes hovering in The Fall verse, turning into doubting refrains of the refrain, full of importance and significance. The instrumental part unites these contrasts together in a wave of restrained drive, causing a break with male vocals, but inspired playfulness completes the composition, combining male and female vocals in a duet.
A soft and calm ballad Life In Mist appeases anxiety, enveloping the acoustic and delicate atmosphere with a gentle and caring atmosphere, pushing the rhythm section aside and bringing vocal reflections and acoustic guitsrs fingering passages to the forefront of the narration.
Once again, the viscous fetters restrains the musical motives of the Time Is The Thorn That Gashes My Side introduction, but the guitars tend to escape from this captivity, correlating in epic motifs with thoughtful vocal reflections. Completing the album, the composition gives shades of bard sagas, minstrel ballads and the spirit of medieval legends.