October 11, 2018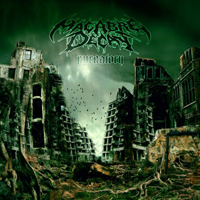 Exploding in a wave of impetuous drive The Flesh Remembers contributes reflections to the bridges, raising the vocal perti to the front edge of the musical image in the chorus. Separately, it should be noted interesting musical solutions in the instrumental part and instrumental inclusions.
After vocal reflections Angel Of Decay, the album continues with an explosion of frantic drive, tearing up the rhythmic accompaniment sheet with bursting vocal phrases. In the chorus, the vocal part is built on the dialogue of the magician and the demon, obsessed and obsession.
Rolling the viscous and viscous march, the Welcome Pain main motive envelops the mind with bonds of rhythmic mid-tempo motive, walking in a pulsing march along the paved path of the eternal torment.
The title track continues the Macabre Decay - Purgatory album, violently driving in explosions of anger in the canvas of the album, interrupted by enchanting melody in fascinating bridges. This melody pushes the musical creation to a slightly different genre, combining and juggling the attention of a wider circle of fans. The furious raging Schizophrenic mind will not hold the straitjacket's fetters, the soft walls of the insulator will not cover the cosmic rays - the mind rushes over the waves of the drive, sweeping away perception from side to side. Rolling in a fierce anger of the prelude, the vocals explode with outrage, but then the instrumental passages introduce a fascinating melody - attributing Pawprints In Blood composition to the limits of the melodic death metal.
Starting the Devourer Of Souls composition with the gloomy whirlwind of doubts rolling in a rhythmic march complements the sound of doubts of children's souls, then returning to grim confidence in the command of the souls of all around.
Beginning with a soft acoustic guitar brute force, then As The World Burns explodes with a burst of fierce drive, preserving the melody - which makes the composition diverse and hit. In the middle part, the pulsating atmosphere of middle tempo enslaves the compositional structure, marching up to the bridge with a charming guitar solo and the subsequent verse.
An unrestrained wave of anger and aggression rises in the entry of the final composition Endless Pain, then, sweeping up in the bridges and chorus a canopy of mystical conjectures, complementing the drive with epic mystery and master omens.